By Gemma Chriss
Having a clean, well-maintained space allows businesses to present a positive image to potential customers. Unfortunately, keeping up with day-to-day tasks like window washing and floor scrubbing can be difficult if staff members aren't specifically assigned such duties. To help brick-and-mortar establishments throughout the Canton, Ohio and Akron, Ohio areas remain in good condition, Langston's Ultimate Cleaning Inc. offers a wide variety of residential and commercial cleaning services. In addition to general janitorial services, this local cleaning company provides businesses with construction clean-up, pressure washing, detailing, and more. Since the professional cleaners from Langston's pride themselves on offering high-quality work to those in need, it should come as no surprise to learn that they're frequently hired by residents in Cleveland, Ohio; New Philadelphia, Ohio; and everywhere in between.
What sets this local cleaning company apart from the competition is the fact that their commercial cleaning services are tailored to fit each client's individual needs. Businesses without an on-site janitorial service can determine the frequency of Langston's visits, be it daily, weekly, or monthly. This is a popular option among offices throughout the Canton and Akron areas as it ensures a safe and healthy environment for both staff members and visitors. The professional cleaners are able to come in at an agreed upon time to clean windows, dust, sweep, restock paper supplies, and even perform general maintenance like doorknob, desk, and light switch repair.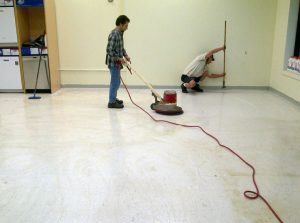 In the event that a business is less interested in janitorial services as a one-time deep cleaning, Langston's Ultimate Cleaning Inc. can certainly do that as well. Establishments from New Philadelphia to Cleveland can enlist the help of this local cleaning company to perform extreme cleaning of all surfaces, from baseboards to ceilings. Those concerned about the state of their old floors can even request grout cleaning, sanding, or waxing to return floor surfaces back to their original shine. Since Langston's Ultimate Cleaning Inc. is available 24 hours a day, 7 days a week, buildings can be cleaned at a time that's most convenient for the client.
Also included in the long list of commercial cleaning services offered by Langston's Ultimate Cleaning Inc. is construction clean-up. This local cleaning company is even willing to travel out of state in order to perform precision cleaning where new home and commercial property construction has taken place. Every nook and cranny is swept and cleaned before being deemed safe for the occupants. As with all of the services they offer, these professional cleaners go above and beyond to offer the highest quality construction clean-up possible to their clients. Not only do they have an attention to detail that's virtually unmatched by others in the field, but they use state-of-the-art equipment and the most advanced cleaning technology available to ensure 100% customer satisfaction.
While Langston's Ultimate Cleaning Inc. is best known for their work on commercial structures, it's worth noting that they offer residential cleaning services as well. Homeowners can contact the team for spring cleaning, move-outs, and even hoarder clean-up. Since Langston's technicians are bio-hazard certified, they're uniquely qualified to clean homes in the event of large-scale hoarding or even death. They have the skills and equipment necessary to remove any potentially hazardous materials from the property before the new owners arrive.
Though Langston's Ultimate Cleaning Inc. can often be found in establishments throughout the Canton, Ohio and Akron, Ohio areas, their team is more than happy to travel as far as Cleveland, Ohio and New Philadelphia, Ohio to help those in need of residential or commercial cleaning service. Additional information about this local cleaning company can be found on their website at www.langstonscleaning.com. However, those currently looking for janitorial services, construction clean-up, or even kitchen detailing are encouraged to contact the professional cleaners at Langston's directly by calling 330.352.7319.
Langston's Ultimate Cleaning Inc.
Portage County, Ohio 44266
Ph: 330.352.7319
www.langstonscleaning.com